For the developmentof effective anti-infectives, it is requisite to use appropriate models to test the biological effect of drug molecules and carrier systems. Especially during the formulation of novel antimicrobial therapeutics, it is essential to consider the bacterial lifestyle, which comprises the formation of biofilms rather than bacterial cells living in planktonic cultures. Within bacterial biofilms, the single cells are surrounded by a dense matrix composed of extracellular polymeric substances like proteins, polysaccharides, and nucleic acids produced by the microorganisms themselves. We develop in vitro models based on electrospun matrices to replicate the complex architecture of biofilms enabling a more accurate prediction of a drug's in vivo efficacy.
The use of electrospun scaffolds as the basis for biofilm models offers several advantages, including precise control over the chemical composition of the fiber network. Thereby we can influence cell attachment, migration, and ultimately, the production of the surrounding matrix. In addition to studying the basic principles of biofilm formation, the developed in vitro models serve as ideal test systems for the design of anti-infective formulations. By utilizing various analytical approaches, the penetration of nanocarriers and drug molecules into the biofilm can be visualized, and the therapeutic effect, as a function of decrease in bacterial populations, can be evaluated. The scaffold-based models further allow the transfer of mature biofilms to in vitro and ex vivo tissue cultures, enabling the evaluation of new therapeutics in the context of manifest/chronic infection.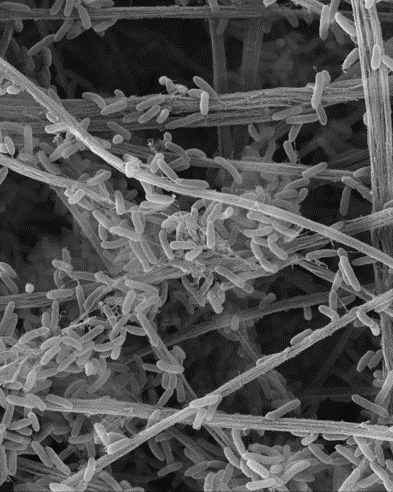 Context-specific Bacterial Products
Bacteria exhibit distinct behavior in planktonic and biofilm cultures. In contrast to planktonic cultures, in which bacteria exist as individual cells that are free-floating in liquid media, bacteria in biofilm cultures form multicellular communities that are attached to a surface. Switching between these two lifestyles critically alters bacterial behavior, resulting in significant adaptations regarding the secretion of extracellular polymeric substances, extracellular vesicles, and antimicrobial agents. These differences can have a substantial impact on the growth, survival, virulence, or bacterial antagonism and can serve as inspiration for the development of next-generation therapeutics.